Carol Cohen
Carol Fishman Cohen, a former investment banker, is now a consultant to women, organizations, and employers on the issue of career reentry. She lives in Newton, MA, with her husband and four children.
Vivian Steir Rabin, a former finance and human resources professional, now runs her own executive search business. She lives in Clifton, NJ, with her husband and five children.
This is their first book. You can visit the authors at www.backonthecareertrack.com.
Books by Carol Cohen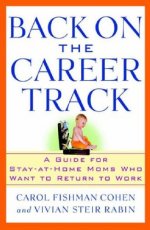 Back on the Career Track: A Guide for Stay-at-Home Moms Who Want to Return to Work
Warner Business Books
2007-06-15