Lynn Grabhorn
Lynn Grabhorn was a long-time student of the way in which thought and feelings format our lives. Raised in Short Hills, New Jersey, she began her working life in the advertising field in New York City, founded and ran an audio-visual educational publishing company in Los Angeles, and owned and ran a mortgage brokerage firm in Washington State.
Lynn's books, which also include The Excuse Me, Your Life is Waiting Playbook and Beyond the Twelve Steps, have received high acclaim from all corners of the world. Her last book was Dear God! What's Happening to Us?
Lynn passed away in 2004 at her home in Olympia, Washington. We all miss her.
For more information, please visit www.lynngrabhorn.com
Books by Lynn Grabhorn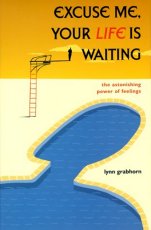 Excuse Me, Your Life Is Waiting: The Astonishing Power of Feelings
Hampton Roads Publishing Company
2003-03-01