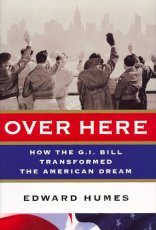 Over Here: How the G.I. Bill Transformed the American Dream
Harcourt, October 2006
In 1944, the U.S. government feared the flood of returning World War II soldiers almost as much as it longed for peace. To avoid economic catastrophe, FDR, Congress, and veterans groups devised a modest measure, the Servicemen's Readjustment Act of 1944.
They intended this G.I. Bill of Rights simply as a bit of help for the sixteen million men and women who so bravely served their country. Instead, quite by accident, it transformed America and rewrote the American Dream.
The G.I. Bill made homeowners, college graduates, professionals, rocket scientists, and a booming middle class out of a Depression-era generation that never expected such opportunity. Today's America was built on the bill's greatness. The Greatest Generation would not exist without it.
Here are the stories of some of these men and women -- how their lives changed because of the bill, and how this country changed because of them.
hardcover | ISBN: 9780151007103 | Publication Date: October 2006
Reviews:
"The G.I. Bill gave America the chance for 'the pursuit of happiness' -- long promised and long delayed. Edward Humes has splendidly caught the moment before it fades."
--Arthur Penn, film and theater director and G.I. Bill veteran
"Edward Humes has given us a superb description of one of the marvels of American history -- the G.I. Bill, which educated, enlightened, and inspired the veterans of World War II. If we were 'the greatest generation,' the key factor was the mind- and heart-expanding G.I. Bill. It 'transformed the American Dream,' including my own dreams, ambitions, and abilities."
--George McGovern
"A wonderful, personal, and important reminder of how a single law enabled millions of highly motivated and grateful Americans to transform our country. This is a legacy, however, that will not last forever. The G.I. Bill wasn't a loan; it was an equity investment in the future. I hope this book motivates us to do the same."
--Bob Kerrey
"An immensely readable account of one of the smartest, most workable projects our government ever thought up -- the G.I. Bill, which empowered an entire generation -- 'giving' the brave and needy tools for a good life: a house, a college education, genuine hope for the future."
--Carolyn See