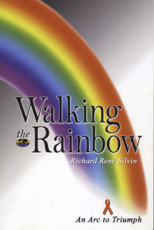 Walking the Rainbow: An Arc to Triumph
Whitmore Publishing, February 2008
Richard Rene Silvin seemed to have it all. After overcoming a childhood of emotional neglect and trauma, much of which has been shared through the honest and brutal pages of his first book, I Survived Swiss Boarding Schools, Silvin transcended his past to lead an enviable life of power and world travel during a career in international hospital management. After decades of shame and hiding his sexuality, this handsome and successful man became true to himself, came ''out,'' and burst forth into the hottest gay spots in Florida, California, New York, and Europe. Supported by beloved friends and eventually buoyed by finding his true love, Silvin could be seen as riding on top of the world.

All that glitters however is not always gold. A new phase of emotional and physical horror for Silvin and many others was on the horizon. Silently creeping its way into the life of so many during the late 1970s and early 1980s - including Silvin - was the then-mysterious illness to later be known as AIDS and caused by the as-yet unidentified human immunodeficiency virus (HIV). His professional life in cutting-edge international health care allowed Silvin to work with colleagues ahead of the curve in terms of HIV research, diagnostics, and medications. Yet he, his friends, and his partners fought overt discrimination and numerous painful, life threatening complications of the virus, which in a grisly succession eventually claimed all those dear to him, despite their hard fought and heroic efforts.

Walking the Rainbow: An Arc to Triumph shares with readers Silvin's battles, both won and lost, on the pathway to understanding and struggling with the war against the deadly HIV virus. As a testament to his incredible will, Silvin has thus far proven to reign victorious over this most lethal of foes. Rather than allow his personal tragedies and devastating heartbreak of the loss of two partners to the deadly virus to consume his life, Silvin has striven back onto the field of battle and participates in considerable good works in the area of international HIV research as well as helping needy infected individuals. While many under similar circumstances would undoubtedly wallow in self-pity, Silvin has become a voice of reason, clarity, and inspiration, despite epic negligence by those charged with protecting the global community. As a man who has conquered seemingly insurmountable odds throughout his life, it should come as no surprise that he would stare down the plague of our century.

Selfless and courageous, Silvin shows in Walking the Rainbow an astonishing fortitude and willingness to persevere while overcoming tremendous physical obstacles as well as psychological and emotional trauma of the deaths of so many held so dearly. Through his own Arc of Triumph, Silvin will redefine what it means to succeed, even to thrive, while living with AIDS.

paperback | ISBN: 9780874260731 | Publication Date: February 2008
Reviews:
"[Walking the Rainbow] is a terrific document! [Silvin's] full possession of the language allows [him] to draw from all angles and give voice to all demons. In this respect it is unique. [He] succeeds to confine to the reader three decades walking the rainbow through the multiple dimensions. It is sober and yet powerful. Never self-pity!"
--Leo Eckmann, M.D. Professor of Medicine

"Walking the Rainbow reveals a compelling visionary worldview that is directly relevant to how each one of us may more constructively engage, with hope yet without illusions, myriad pressure points we face in today's paradoxical world. René Silvin tells his fascinating story in context of his relational dynamics and complex role as a global health care executive, as a witness to loved ones who tragically succumb to AIDS, and his personal struggle with unique insights into AIDS. I am struck by René's will to survive combined with his empathy and deep sensibility to what it is to be human."
--Ahmed Yehia, Chairman and CEO, Quantum Leadership Solutions, LLC

"[Walking the Rainbow] is stunning, both in quality and quantity. I simply could not put it down until completion. The loving caring way in which [Silvin] communicates about partners and friends is incredible. [He] writes of the compression of time -- enjoying life to its fullest as one does not know what tomorrow may bring. [Silvin] inspires us to continue our quest . . . I am looking forward to [book] number three."
--Harold Bedenbaugh, First Vice President (Ret.), major investment house

"In Switzerland it is said that there is a treasure on both ends of a rainbow. It is true. There I found a man beyond class, completely multi-cultural and as personable as is possible.

"In both a professional and personal context, Richard is not ordinary, Whether in Switzerland, France, Spain, Germany, the UK, Australia, Canada or Singapore, everyone we met only said and thought positive things about Richard. The boy has one major drawback: He is incapable of making enemies."
--Jean-Claude Salamin