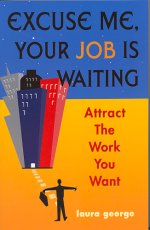 Excuse Me, Your Job Is Waiting: Attract the Work You Want
Hampton Roads Publishing Company, February 2007
The Secret to Attract the Work You Want
Positive Feelings + Effective Job Search = The Perfect New Job!
New York Times best-selling author Lynn Grabhorn's Excuse Me, Your Life Is Waiting showed half a million readers how to "magnetize" their emotions to draw their desires to them. Now, human resource manager Laura George applies Grabhorn's powerful Law of Attraction to the life experiences of both losing and getting a job. George captures the style and substance of Excuse Me and helps you identify the qualities you want in a job. She then shows you how to flip the negative feelings you may be carrying ("the economy is terrible"; "I can't believe I got laid off!"; "I'm too old!") so you can stay focused and upbeat, and draw that perfect job to you.
Plus, she shares the one secret that will put you ahead of the rest: Finding the perfect job isn't all based on logic and luck.
In Excuse Me, Your Job Is Waiting, Laura George:
Uncovers a 4-step process for identifying the qualities you want in a job

Reveals how to decide if a company's energy is right for you

Discloses how to turn negative emotions into positive ones

Shows how to infuse your résumé and interview with your positive energy

Helps you stay focused and upbeat to draw that perfect job to you

Debates the big step -- Is it time to start your own business?
paperback | ISBN: 9781571745293 | Publication Date: February 2007