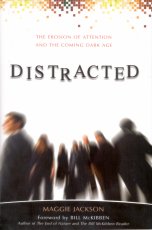 Distracted: The Erosion of Attention and the Coming Dark Age
Prometheus Books, June 2008
We have oceans of information at our disposal, yet we increasingly seek knowledge in online headlines glimpsed on the run. We are networked as never before, but we connect with friends and family via e-mail and fleeting face-to-face moments that are rescheduled and interrupted a dozen times. Despite our wondrous technologies and scientific advances, we are nurturing a culture of diffusion, fragmentation, and detachment.

In this new world, something crucial is missing: attention -- the key to recapturing our ability to connect, reflect, and relax; the secret to coping with a mobile, multitasking, virtual world. Distracted vividly shows how, day by day, our hyper-mobile, cyber-centric, interrupt-driven lives erode our capacity for deep focus and awareness. The long-term implications for a healthy society are stark.

Attention is the building block of intimacy, wisdom, and cultural progress. If we squander our powers of attention, our technological age could ultimately slip into cultural decline. And yet we are just as capable of igniting a renaissance of attention by strengthening our skills of focus and perception, the keys to judgment, memory, and happiness. Maggie Jackson reveals the astonishing scientific discoveries that can help us rekindle our powers of attention in a world of speed and overload.

Distracted is an original exposé of the multi-faceted nature of attention, an engaging and often surprising portrait of postmodern life, and a compelling road map for cultivating sustained focus and nurturing a more enriched and literate society. Jackson offers us both a wake-up call -- and a reason for hope.

hardcover | ISBN: 9781591026235 | Publication Date: June 2008
Reviews:
"In this richly detailed and passionately argued book, Jackson warns that modern society's inability to focus heralds an impending Dark Age -- an era historically characterized by the decline of a civilization amid abundance and technological advancement . . . The author provides a lively historical survey of attention, drawing upon philosophy, the impact of scientific innovations, and her own experiences to investigate the possible genetic and psychological roots of distraction . . . Jackson has produced a well-rounded and well-researched account of the travails facing an ADD society and how to reinvigorate a "renaissance of attention.'"
--Publishers Weekly

"This is an important book . . . Others have commented on these issues, but I have never seen them gathered together and documented as completely as Maggie Jackson has done."
--Alan Lightman, MIT professor, National Book Award finalist, and author of the best-selling Einstein's Dreams

"Maggie Jackson is one of the most original and perceptive journalists writing about the challenges of modern life. In Distracted, she explores our hectic, multitasking world. She shows that while digital technology fills our lives with information and entertainment, it is far too often at the expense of human contact and thoughtful reflection. This book will make you slow down and think."
--Senator Amy Klobuchar

"Maggie Jackson's fascinating book on America's collective attention deficit disorder is a wake-up call to all of us to take back our lives, turn off the technology, and focus on paying attention to what makes us human and fulfilled."
--Rosabeth Moss Kanter, Harvard Business School professor and author of America the Principled and Confidence

"Distracted challenges us to reconsider the information-saturated and demand-driven world that we have created. Does our sensate culture, in eroding attention, threaten the self that is at the very pith of our humanity? Maggie Jackson tackles this question with finesse, distilling the essence from the chaos to end in hope."
--Peter C. Whybrow, MD, director of the Semel Institute for Neuroscience and Human Behavior at UCLA and author of American Mania: When More Is Not Enough

"Hold on and get ready for a magical tour of the new world of 'paying attention.' In a masterful way, Maggie Jackson weaves together cutting-edge research, literature, philosophy, and compelling stories and makes sense of the multitasking, overstimulating, distracting present times. She helps us think about -- in fact choose -- the future we want."
--Ellen Galinsky, president of Families and Work Institute