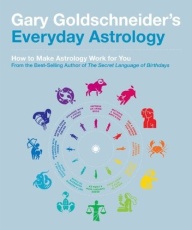 Gary Goldschneider's Everyday Astrology: How to Make Astrology Work for You
Quirk Books, September 2009
Improve Your Relationships with Bosses, Friends, Family, Lovers, Coworkers, and Many Others!

Learn How to . . .

give a sales pitch to an Aries.
live peacefully with a Taurus.
impress a Gemini.
discuss money issues with a Cancer.
stay in touch with a Leo.
break bad news to a Virgo.
survive the holidays with a Libra.
improve your sex life with a Scorpio.
ask a Sagittarius for help.
entertain a Capricorn.

break up with an Aquarius.
express affection to a Pisces.
And much, much more!

With nearly 2 million books in print,
The Secret Language of Birthdays
and
The Secret Language of
Relationships
established Gary Goldschneider's reputation as one of the world's foremost and
influential astrologers.
Now Goldschneider brings readers his most ambitious book yet:
Everyday Astrology.
A complete guide to understanding and improving every relationship in your life,
Everyday Astrology
features detailed and comprehensive advice for interacting with people of every sun sign.
Exploring hundreds of scenarios in areas ranging from work to love to family and friends, Goldschneider reveals how to approach a Leo boss for a raise, how to break up with a Scorpio boyfriend, how to make a great impression on a Capricorn first date, how to survive the holidays with a Pisces parent, and much, much more. Whatever the situation, you'll find practical and specific advice for making astrology work for you. User-friendly and easy to navigate, Everyday Astrology is a definitive reference that readers will consult on a regular basis.
paperback | ISBN: 9781594744082 | Publication Date: September 2009
Reviews:
"I'm not a believer in Astrology, however I do read my horoscope from time to time for the entertainment value. I like to see how 'right' it might be. So when I was contacted to review this book, I jumped at the chance to see how my Gemini husband tends to handle finances, how best to discipline my Scorpio child, how to manage my Capricorn mother-in-law, or how to ask my Aries father for money. I thought that this would be interesting. I read and read and read and before I knew it, I was finished reading about all the members of my family, my friends, and my co-workers (those of whom I knew birthdays). Goldschneider's book was thoroughly enjoyable, even if for nothing more than entertainment."
--Kristina's Favorites