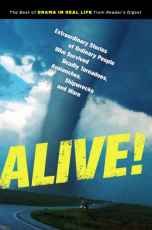 Alive! Extraordinary Stories of Ordinary People Who Survived Deadly Tornadoes, Avalanches, Shipwrecks and More!
Reader's Digest, May 2014
Drama in Real Life!
The stories in Alive! highlight life-and-death moments where the will to survive is the only thing that keeps one hanging on when hope seems lost.
In "The Tot and the Twister," Derek Burnett tells the dramatic story of a grandmother's determination to protect three children when a tornado rips through her house. In "Terror on the Cliff," Kenneth Miller recounts hiker Larry Bishop's harrowing forty-eight hours clinging to the side of a mountain, thoughts of his wife and daughter giving him the courage to await help. And in "Face to Face with a Grizzly," Kathy Cook describes how two women who are being mauled by a bear summon all of their strength to defy death.
A captivating collection at once gripping and inspiring, Alive! will keep you on the edge of your seat and remind you how ordinary people can do extraordinary things in extreme circumstances.
Hardcover | ISBN: 9781621451617 | Publication Date: May 2014