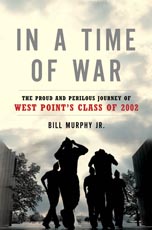 In a Time of War: The Proud and Perilous Journey of West Point's Class of 2002
Henry Holt, September 2008
The dramatic story of West Point's class of 2002, the first in a generation to graduate during wartime.

They had joined an army at peace, but in their time at the United States Military Academy the world around them changed forever. Just after the cadets in West Point's bicentennial class began their senior year, terrorists attacked America. The following June, when President George W. Bush spoke at their graduation and declared that the United States would "take the battle to the enemy," the men and women of the class of 2002 knew they would be fighting on the front lines. In this stirring account of the five years following their graduation, the Army's newest, youngest officers lead their soldiers into harm's way and experience both the rewards and the costs of answering their country's call.

In a Time of War tells the story of the soldiers and their families who have proudly served and sacrificed so much, among them:

• Todd Bryant, the rowdy, funny Californian who follows his parents and siblings into the armed forces, but who longs for the young wife he left behind;
• Drew Sloan, the studious son of liberal parents from Arkansas who chooses West Point, the infantry, and Ranger School and finds purpose on the arid plains of Afghanistan and in the urban battles of Iraq;
• Tricia LeRoux Birdsell, the high-spirited athlete who follows her mother into the military, serves with her infantry officer husband in Iraq, and searches diligently to discover her calling in the Army;
• Tim Moshier, the gentle giant, consummate team player, and natural Apache helicopter pilot who leaves his wife and baby daughter behind to help patrol the skies over Baghdad; and
• Will Tucker, the taciturn, tough, and intelligent Alabama native who becomes a courageous armor officer and fights again and again to win battles in Iraq and to find his way home to the wife and child he loves.

Meticulously reported, sweeping in scope, Bill Murphy Jr.'s powerful book follows these brave and idealistic officers—and their classmates and families—through more than five years of war. Vivid, inspiring, and sometimes heartbreaking, In a Time of War is a story about courage, honor, and what war really means to the men and women whose lives it defines.

hardcover | ISBN: 9780805086799 | Publication Date: September 2008
Reviews:
"What Rick Atkinson did for the West Point class of 1966, Bill Murphy Jr. has had the courage, talent, and dedication to do for the class of 2002. With pencil, boots and tape recorder, Murphy has performed a national service: He sends the reader out among some of the bravest, most inspiring young people in the country, at one of the most pivotal times in our history. Prepare to be moved and amazed."
—David Lipsky, author of Absolutely American

"In these days when most of America glides along, more and more oblivious to the conflict overseas, it is a remarkable achievement for any storyteller to reveal the tight, committed subculture that contends with war every day. Our military community—isolated, insulated and, indeed, emotionally segregated from the rest of the nation—is fighting, suffering and, at times, dying. In a Time of War has paid attention and done so simply, beautifully and honestly. And attention is due."
—David Simon, Writer/Producer of HBO's Generation Kill

"A powerful, penetrating tale about the young officers who bear the burden of our 21st century wars. The themes of In a Time of War are timeless: duty and sacrifice, love and death, heroism and fate."
—Rick Atkinson, author of The Day of Battle and The Long Gray Line

"Brilliantly reported and elegantly written. In a Time of War is a story of courage, but it will also break your heart."
—Bob Woodward, author of State of Denial

"Bill Murphy Jr. has captured the idealism and the courage of the 'Golden Children' of our wars in Iraq and Afghanistan, West Point's bicentennial Class of 2002. Readers will be moved to tears and fierce pride by their spirit and sacrifice. In a Time of War is a heartfelt portrait of war and family—a book that tore my heart out, and one that I will never forget."
—Lt. Col. John Nagl (ret.), author of Learning to Eat Soup with a Knife

"Here is the unforgettable story of the West Point class that bore the full burden of American policy in Iraq. Bill Murphy Jr. captures young officers at war in a classic account that is powerful but not overdrawn, and hauntingly sad yet never saccharine—just straight and true."
—David Maraniss, author of They Marched Into Sunlight